John Dobelman, professor in the practice of statistics (STAT) at Rice University, remembered as a "consummate professional and a wonderful colleague," died May 9 at age 65, some 25 years after his first cancer diagnosis.
"John was a gift of intellect, love and passion to the university," said Katherine Ensor, Noah G. Harding Professor of STAT, who hired Dobelman to join the faculty in 2004 when she was department chair. "He always cared about his students. He loved Rice."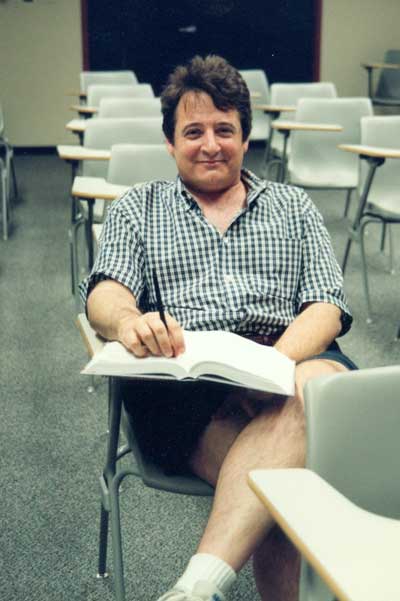 Ensor notes that few knew Dobelman lived with cancer throughout his time at Rice, "which highlights his strength of character and magnifies the gift of his contributions to our community."
Dobelman earned three degrees from Rice: a B.S. in electrical engineering in 1979, a master's degree in business and public management in 1985, and a Ph.D. in STAT in 2004. After his undergraduate degree, he held various engineering positions including more than a decade spent working for the Federal Aviation Administration.
"John returned to Rice with a specific interest in obtaining his Ph.D. in statistics with a focus on quantitative financial markets. His dissertation focused on the development of non-parametric approaches to optimal portfolio construction," Ensor said.
He joined the Rice faculty as a lecturer in STAT in 2004, and spent two years as an adjunct professor of STAT in the Cameron School of Business at the University of St. Thomas in Houston. He became a professor in the practice at Rice and director of STAT's Professional Master's Program in 2010.
"As founding director of the program," said Rudy Guerra, professor and chair of STAT, "John made it into one of the most successful professional master's programs in the School of Engineering, growing the program to international prominence. In his role as director, John served as recruiter, admissions chair, adviser and curriculum chair.
"He was an outstanding administrator, but his love and passion was for the students, many of whom he also had in his classes. He was approachable and always had the students' best interests in mind, often continuing to follow their careers well after leaving Rice." 
Among Dobelman's former students is Max Lee, director of commodity and FX systematic strategy trading for Bank of America Merrill Lynch. Lee earned his M.S. in STAT in 2015 from Rice and now serves as an adjunct professor in the department.
"Across all my interactions in industry and academia," Lee said, "I don't think I've met a kinder, more selfless teacher, mentor and friend. John would always go one step further to be a great human to those around him. When you were with John, he always made you feel not only like you had achieved something meaningful but that the world ahead of you was there for the conquering."
Dobelman continued his family's longtime backing of Rice. With the support of his family, including his late mother, Katherine (Kay) Bayless Dobelman, he established the Dobelman Family Chair in Statistics. He was instrumental in administering the Center for Computational Finance and Economic Systems (CoFES), founded in 2002. Starting in 2011, Dobelman served as its co-director.
CoFES hosts the Eubank Conference on Real World Markets at Rice, a semi-annual event Dobelman helped organize.
In 2017, Dobelman was awarded the Nancy Moore and J. Thomas Eubank Prize in Computational Statistics for his research into anti-efficient markets and his leadership in the professional master's degree program. Thanks to him, the program offers a specialization in financial statistics and risk management.
Dobelman helped develop the NSF-sponsored Q-Bio summer program with Marek Kimmel, professor of STAT.
"In the good old days when we were much younger," Kimmel said, "John decided to brush up on his engineering and enrolled in the STAT Ph.D. program at Rice. He went through the Statistical Quality Control class with me as the instructor. We became friends on the grounds of common views of society and human nature. I will miss our brief interactions in the corridors, enlightened by John's cunning understatements and other interactions with this extraordinary man."
"John's research focused on data-driven investment strategies," Ensor said, "bringing the best of statistics and data science to bear on the world of investing." He wrote or co-wrote five books on the subject.
"John was the consummate professional," Guerra said, "a wonderful colleague, a respected scholar, a caring teacher, a great team-player and a very loyal Rice alum. John will be greatly missed."
He is survived by his wife Kathleen Dobelman, their children and grandchildren. Services for Dobelman will be held at 2 p.m. on May 20 at Memorial Oaks, 13001 Katy Freeway, Houston.
Memorial contributions may be directed to Rice University at the Office of Development MS-81, PO Box 1892, Houston, TX 77251, or at giving.rice.edu, with a designation for the Center for Computational Finance and Economic Systems (CoFES) or the Department of Statistics.